TEAMSTONE, LDA established itself in the international textile market since its foundation in 2003 in Western Europe – Portugal.
TEAMSTONE, LDA is known and acknowledged both nationally and abroad as being a reputable, trustworthy, stable, sound, solid and highly principled company paving its way in the yarn,  nightwear and home textile industry. It is fundamentally respected for its devoted and determined attitude as a comercial partner and for being faithful, loyal and highly commited in pleasing its customers in the best possible manner.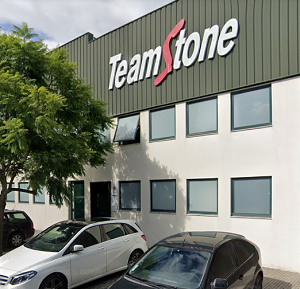 Its founders Luís Alemão (with a vast knowledge of 35 years in the production of textile yarns) and Dina Alemão (head of the Creativity and Quality Control Department) have been leading the company since then. The truth is that they are always a step ahead of the fashion trends offering competitive products / items that are visually very appealing, adjusted to each environment and meeting high and demanding quality standards.
In 2010 TEAMSTONE's expansion became even more notorious with the exhibition of its core business in textile and decoration fairs. Today, our home textile collections (bedroom, bathroom, kitchen and hotel) as well as our homewear and nightwear are sold worldwide.
Being a family owned company, TEAMSTONE is true to fundamental values, such as quality and innovation and continues, to this day, to uphold these principles. Our import and export company stands out due to our ethical  and "modus operandi"standards focused on transparency and sustainable management practices.
The company's main goals are to create and maintain strong, trustworthy and honourable relationships with its customers, therefore being recognized as a reliable and accomplishing partner. TEAMSTONE has expanded its customer portfolio to the four continents over the years and is extremely proud of this portfolio. Healthy partnership bonds are maintained, constant advice is exchanged and creativity guidelines are updated leading to gratifying customer feedbacks.
Until 2012, TEAMSTONE, LDA worked in private label. However, over these last few years, the markets have encouraged us to launch our own collections. Being so, in 2013 the brand  "Luxury Linen – by Teamstone" was born, blending the concept of quality and comfort. This inspiration characterizes our entire range of products. From then onwards, the company guarantees the manufacture of both private label and our own brand "Luxury Linen – by Teamstone"
TEAMSTONE, LDA actively participates in domestic and international Trade Fairs and Fashion Shows, these initiatives are a fundamental part of TEAMSTONE's investment and promotion.
Take a leap of faith and get to know TEAMSTONE's fashionable and trendy items. You won't regret it!